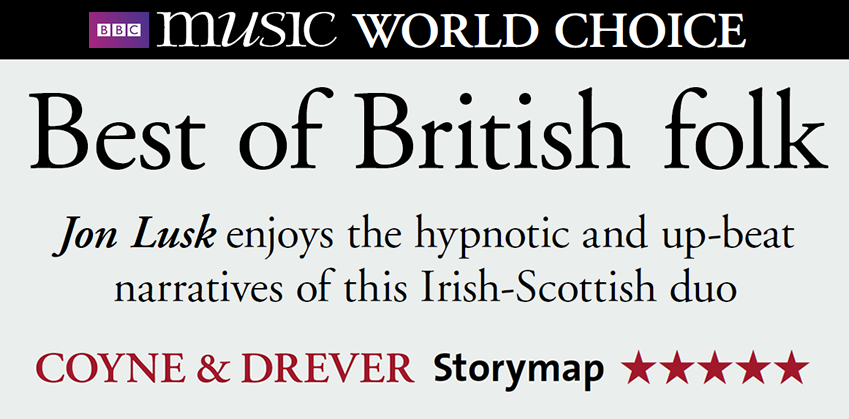 BBC Music Mag World Choice
Storymap was reviewed in the Sept issue of the BBC Music Magazine by Jon Lusk and it received the World Choice CD Award garnering a full five stars.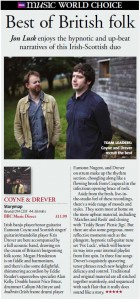 COYNE & DREVER
Storymap
Reveal 014 CDX 44:38 mins
Irish banjo player/tenor guitarist Éamonn Coyne and Scottish singer/guitarist/mandolin player Kris Drever are here accompanied by a full acoustic band, drawing on the cream of Britain's burgeoning folk scene. Megan Henderson is on fiddle and harmonium, and there's also some delightful, shimmering accordion by Eddie Reader's squeezebox specialist Alan Kelly. Double bassist Nico Bruce, drummer Callum McIntyre and bodhrán (Irish frame drum) player Eamonn Nugent, and Drever on strum make up the rhythm section, choogling along like a flowing brook from Ceapaval in the infectious opening brace of reels.
Aside from the fresh, live-in-the-studio feel of these recordings, there's a wide range of moods and styles. They seem most at home on the more upbeat material, including 'Marches and Reels' and closing with 'Teddy Bears' Picnic Jigs'. But there are also some gorgeous, more reflective moments such as the plangent, hypnotic tall-guitar tune set 'Pot Luck', which will burrow its way into your internal playlist from first spin. In three fine songs Drever's exquisitely quavering tenor phrases reach new heights of delicacy and control. Traditional and original material are all stitched together seamlessly, and sequenced with such flair that it really does sound like a story.