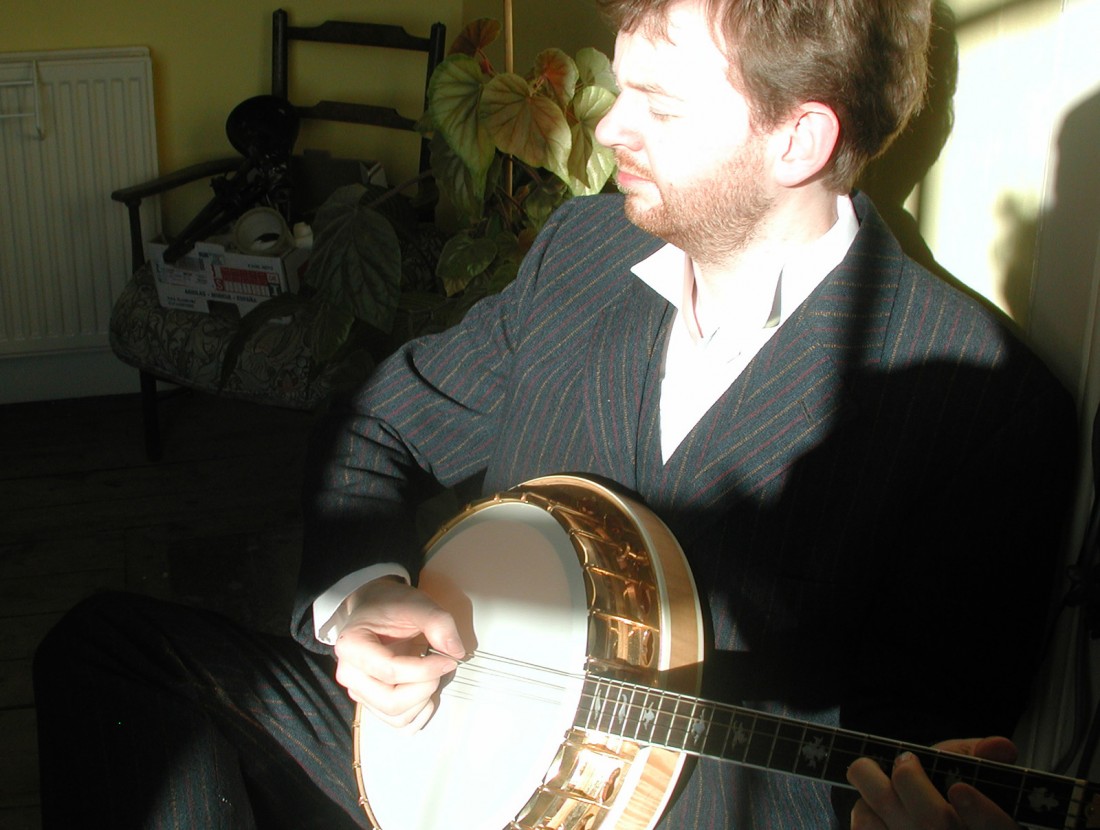 Old News – January 2006
updated 21st jan 2006 – since 30th March 2005…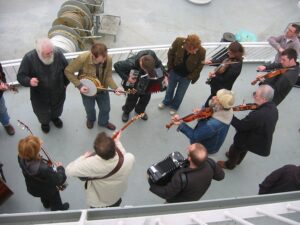 I went to Shetland and did a few gigs (as usual). I played a couple of nights with the Alison Brown Quartet (which was Alison Brown and Garry West with John Doyle and Andrea Zonn for this visit) and a night with Sean O'Donnell and Paul O'Driscoll (borrowed from other bands for the job). I also played at Da Final Fling with/as Six Foot Ginger with Andrew Gifford (Fiddlers Bid) and Martin Green and the one remaining member Sean O'Donnell after he was abandoned by the rest of his band. Finlay MacDonald also asked if I would play with him for the finale of Da Final Fling and we wound it up at the Legion on "the two most scary instruments of the festival". Look at this site for pics and clips of the festival. And how can we forget the ostrich egg that the Old Ropers brought which we ate with bacon as an omelette at Alan Longmuir's hoose. We had a great farewell on the deck of the boat.
May saw lots of Salsa Celtica work including an English and Welsh Tour which started in style on the way to Wales in Tim's van!!
Gigs in June started with a great gig at Torphichen in Scotland. Kris Drever (guitar & vocals), Ross Hamilton (double bass) and Erik Laughton (bodhran & snare) played with me. Then it was back to Salsaland with some lovely gigs at the Oran Mór, Glasgow, and a mad mad gig for a ball-time Oxford University!!
We lost a great musical friend in June, Joe Scurfield of the Old Rope String Band. He will be sadly missed by more than us but we will miss him lots as well.
July saw us tour with the Salsas in Canada (one pic from Belleville, Ontario); we had a great time and met lots of old and new friends. As the rest of the band headed for Cape Breton I flew home for my brother's wedding – I got in some trouble over that one!! I don't know which was worse: missing gigs or final wedding preparations!! A trip to Kavala in Greece was beautiful as was a fantastic gig at the Leith Folk Club once again with the great Kris Drever.
We were also involved in 'Driving Lessons' a new film due for release very soon directed by Jeremy Brock (Mrs Brown etc.) starring Julie Walters, Rupert Grint, and Laura Linney. We did a couple of scenes and there are a few Salsa's songs in the movie (including Cumbia Celtica which I co-wrote).
August was a bit quieter with gigs in Edi, Milan, Stirling, Germany and Wales with the Salsas (this time we made Brechin), and further gigging with Kris. Myself and Kris were getting closer to finishing our cd – more on that later!!
September was quieter again (purely on the gig front) seeing a move for me to Manchester for a while, more recording, and some Salsas gigs.
October saw preparations for the new Salsa Celtica cd 'El Camino' which is to be released on March 6th and a bit more recording for Kris and my new cd.
We went into the studio in November to record 'El Camino' with Salsa Celtica and a smooth and enjoyable time was had by all. This was preceeded by a few preparation and honing gigs in Edi and the Weej (Edinburgh and Glasgow for the uninitiated).
December was cd photo time all round; for both me and Kris, and Salsa Celtica. We had a great sell-out show at the new concert hall in Perth which finished our Salsas' shows for the year. Kris and myself did the last of our recording for our cd and a trip home to Ireland for Christmas and New Year rounded off the year in style.
The year started once again with Celtic Connections (this time 2006) as we did a show for BBC Radio Scotland's Celtic Connections Show at the Old Fruitmarket in Glasgow. We were finished our show by 6 pm and party time was once again upon us. As has become usual for this time of year I once again met and played with my great friends that are the Alison Brown Quartet, again at the Old Fruitmarket – another great gig, this time meeting the wonderful Joe Craven who was over with ABQ. Hannah's tour managing is going down a treat.
January is not over yet and CC2006 rages as I write, but I am back in Manchester for a while trying to catch up on it all.
See you later…