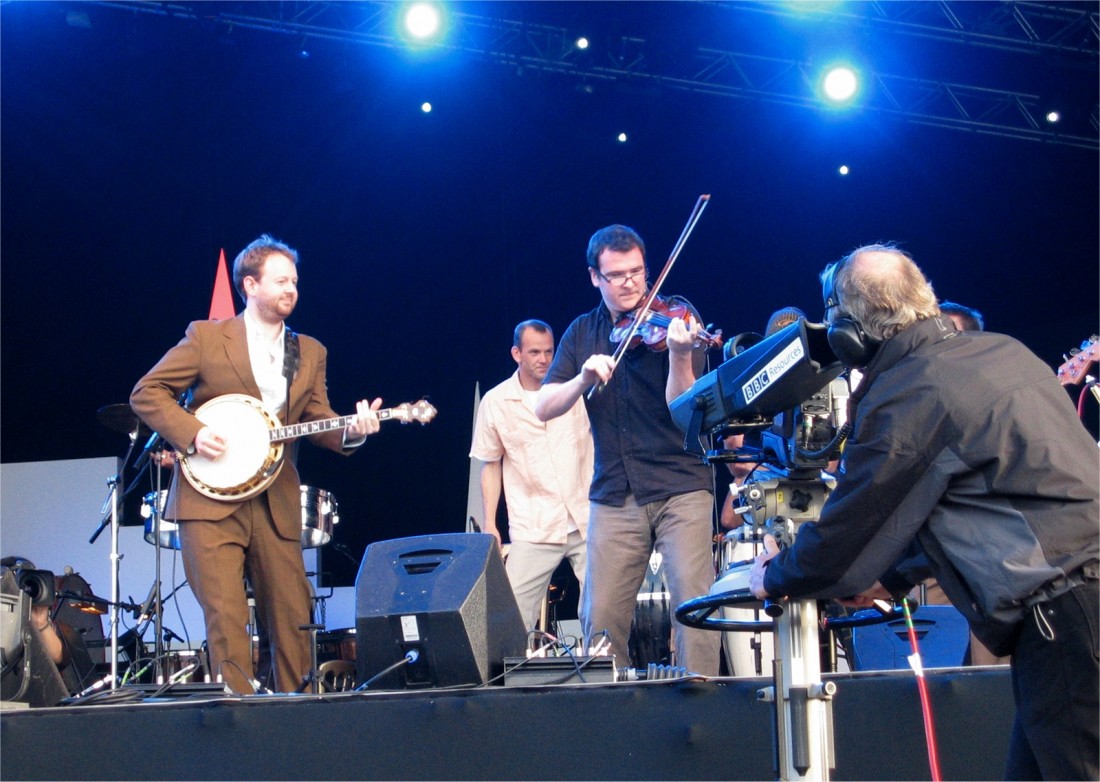 Old News – Sept 2004
updated 29th sept 2004 – since Nov 2003
I played with Salsa Celtica at the last night of Proms in the Park in Hyde Park, London on 11th Sept in front of 40,000 people. Also on the bill that night were The Corrs, Bjorn Again and the wonderful Evelyn Glennie. Terry Wogan was there to keep Steve Kettley of Salsa Celtica happy!! Following this was a quick visit to Italy again with Salsa Celtica which included a lovely diversion in the form of a fantastic meal and day in Venice on top of the gig in Vicenza.
Last weekend I was in Ireland at the wonderful Johnny Keenan Banjo Festival. I played at the first of these festivals in 2002. This year had the pioneering Earl Scruggs at the age of 80 playing his first gig in Ireland. What a coup for Chris and Kathy to bring him and his band over from the States for such an event. Other players at the festival included among a long list of banjo players and others, stateside visitors Dirk Powell and Riley Baugus with whom I enjoyed one heck of a banjo finale at the end of the last festival concert. Dirk and Casey Driessen and myself had a little bit of fun after that with a few corridor tunes. Mayo may have lost the All-Ireland football final that day to the dismay of many people passing through the town on their way home from Dublin that evening but banjo-mania continued long into the night in Longford. (My mother Mary wasn't too pleased about the result of the football either and my Grandad Fleming would have banged his fist in resignment!!)
updated 9th july 2004
Following on from the Salsa Celtica English tour was the Scottish tour!! Shetland and Orkney were mental affairs when the hospitality overflowed but that is not to say that the rest of Scotland didn't live up to this. Suffice to say that a great time was had by one and all. This was the first extended tour that I did with 'The Salsas' and I came out smelling like a new pin!!
One of the many highlights of both tours had to be the Queen Elizabeth Hall on London's South Bank where the band sold-out (as they did at many venues) and raised the roof with all 900 people dancing in their seats, aisles and anywhere else they got a chance to boogie. The Lino Rocha fan club was out in full force. view qeh photos
This followed a great night at the Inverness, Eden Court and preceeded another great night at Rothes Hall, Glenrothes. A lot of travelling for one small banjo player in a big Salsa band…
The Summer season is starting to hot up after some recent transatlantic and banjo gigs which you can read more about in the TOURING section. These involved a quick visit to the States for the 14th Annual Irish Connections Festival in Boston which had a stellar line-up. After this a weekend at the Bath Banjo Festival made for a welcoming return to this part of the world.
Salsa Celtica are about to begin a string of dates which include; Hitchin; the National Theatre, South Bank, London; Belgium; The Skye World Music Festival; Loch Lomond; The Latin Quarter Festival, Dublin when Éamonn gets a chance to play at home in Ireland for the first time with Salsa Celtica; The Edinburgh Jazz Festival; Forfar; Aberdour; the Celtic Fusion Festival in Castlewellan, Northern Ireland; before two gigs at the Edinburgh Fringe Festival at the Spiegeltent.
Along the way there are some solo banjo-type gigs which keeps the diddley soul happy!!
updated 29th march 2004
I have just finished the English tour with Salsa Celtica taking in Chichester, Milton Keynes, St Helens, Hebden Bridge, Liverpool, Colchester, Norwich, Birmingham, Leicester and a session for the Andy Kershaw radio show recorded on St Patrick's Day for BBC Radio 3 at Maida Vale Studios London which airs Sunday 4th April.
Another visit to London is planed for 16th April when Salsa Celtica play at the Queen Elizabeth Hall, South Bank as part of the La Linea festival which has acts such as the great Eddie Palmieri, Omara Portuondo (the first lady of the Buena Vista Social Club) and Calexico among this years lineup.
This date comes towards the end of an extensive Scottish tour which started with The Queen's Hall, Edinburgh last Thursday and finishes in The Cottier Theatre, Glasgow via among other places, the North Isles, Orkney and Shetland. Other stops include Findhorn, Aberdeen, Inverness, Fort William, Oban, Glenrothes.
This will see me into May when more Salsa Celtica dates are planned. Check out the gigs page for further info.
updated 15th february 2004
At first glance my Celtic Connections 2004 seemed quiet but three gigs with Salsa Celtica – including a TV gig for BBC4 and TG4 (in Ireland) – and three gigs with Alison Brown Quartet (which was actually a quintet this year with special guest Andrea Zonn on fiddle and vocals) made for quite a busy festival.
Along with Dermot Byrne and John Blake we had a sell-out gig in Carlow in Ireland on 6th Feb (well sold out based on a comment by John – 'when the shadow of the front row covers your set list you know the place is well packed'). Thanks to Ger, Dave and Michelle for a great time.
Things are now gearing up for a few busy months ahead with Salsa Celtica who I tour England and Scotland with in March and April. Then follows a busy Summer; check listings for details etc.