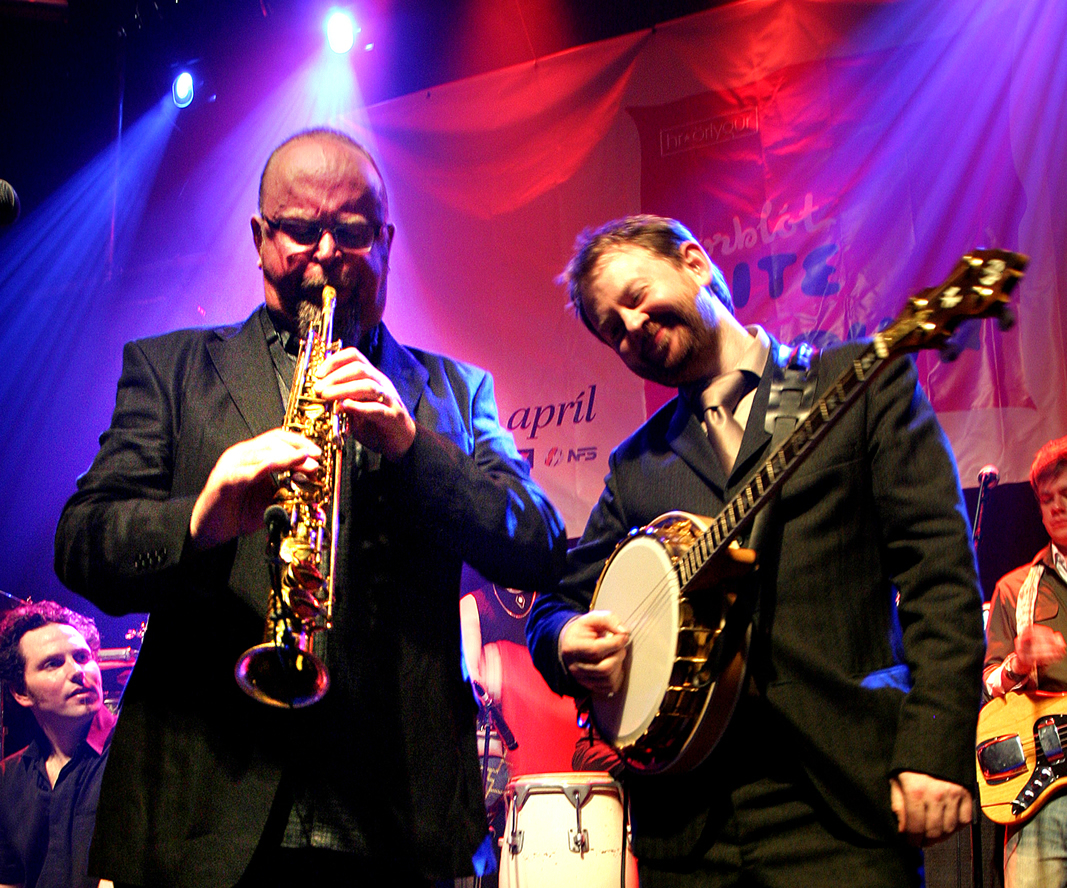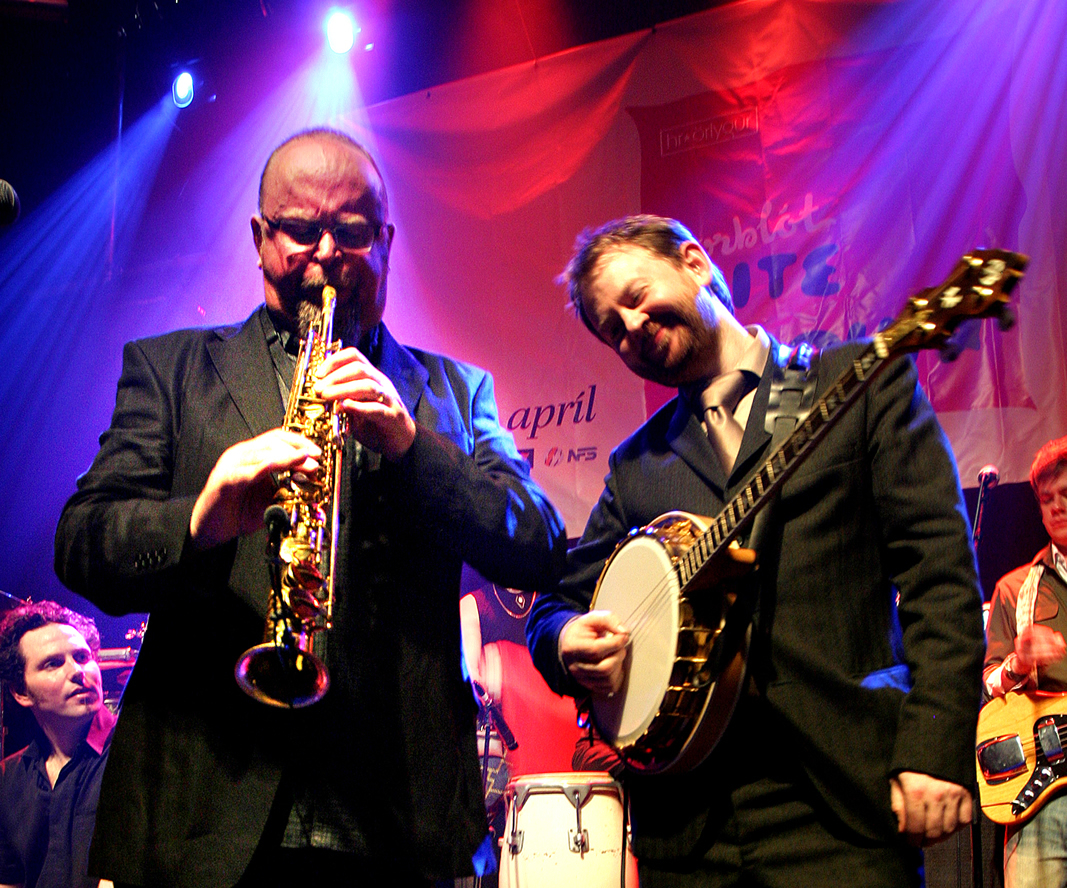 Old News – November 2003
updated 21st Nov 2003 – since Jan 2003
I performed on 'Traveling Folk' with Archie Fisher on Thursday 21st November for BBC Radio Scotland; interview and music with the wonderful Kris Drever. Listen to this show online at the BBC Radio Scotland 'Traveling Folk' site by clicking on the 'Listen Again' link.
I am featured on tradmusic.com Q&A interview section this month. Click here to read what he had to say about his music and influences.
Don't forget the gig with Mike McGoldrick, Kris Drever and Aaron Jones at the UK's best folk Club – BBC Radio 2 2003 Folk awards voted – the Edinburgh Folk Club, The Pleasance, on Nov 26th.
Also check out BBC Radio Scotland on Tues 9th December for the Celtic Connections' live celebration of Radio Scotland's 25th Anniversary. This live performance from the Paisley Abbey will feature Salsa Celtica (who I am playing with) and Irish band Kila. It should be some celebration so come along if you can or tune in if you can't!! This show will also be available on-line, again from the Radio Scotland site on the Celtic Connections page.
updated 1st october 2003
We record Irish TV Show 'Geantraí' for the Irish language station TG4 on 23rd October. Geantraí is on location in Glasgow, Scotland after doing another on-location in Manchester two nights previous. Check back to gigs page to see location of recording which is located in a Glasgow pub.
On the Halloween weekend I will play at the internationally renowned Return to Camden Town Festival in London, now in its 5th year.
fRoots magazine described last years festival…
'Ambitious programming, accomplished musicianship, expert teaching and skilful organisation were the keys to this year's huge success. Long may RtCT thrive!'
Fellow 'Through the Round Window' musicians Dermot Byrne of Altan and Tom Morrow of Dervish, along with renowned multi-instrumentalist and vocalist Garry O'Briain will join me at the festival to play at the London Irish Centre on 31st October. Other musicians on the night include Johnny Connolly and Charlie Lennon.
I will also do a banjo workshop at the festival on Sat 1st Nov.
Just confirmed for New Year, I will play with Salsa Celtica at the Usher Hall, Edinburgh, Scotland. Shooglenifty will also play on the night with Salsa Celtica closing the Hogmanay party festivities.
updated 26th august 2003
The summer has included visits to Holland, Italy, Germany, England, Ireland and of course home in Scotland on the odd occasion.
A brief visit to England with the extraordinary talents of Michael McGoldrick, Dezi Donnelly, Kris Drever and John-Joe Kelly was a feast of music and band member meetings. Following this was a big night of music in Irish-Manchester, a gig with all of the above plus Ewan Vernal and Tim Edey and other special guests including wonderful tin whistle player Grace Kelly and Michael's niece.
In August I toured in Ireland as a guest with the Alison Brown Quartet getting to spend some more time with the great people in this band. Including the ever growing Hannah, Gary and Alison's 13 month old daughter, who learnt to walk in Ireland and walked out onto the huge National Concert Hall stage in Dublin clapping back at the rapturous crowd as she arrived and waving as she said goodbye. A star in the making no doubt!!
During the fabulous Edinburgh Festival I played two sellout gigs with Salsa Celtica at The Queen's Hall and The Famous Speigeltent and am due to play the final night of the festival (before the fireworks) at the reknowed Folk at the Oak series in Edinburgh's own Royal Oak.
I am due to do some trio gigs with Fine Friday's Kris Drever and Dervish's Tom Morrow in early September.
updated 14th may 2003
I am to play the Galway Arts Festival on Saturday July 19th.
I am working on and off with Salsa Celtica over the Summer months having recently played the "Burns an' a' that!" Festival in Ayr on May 11th.
Also, another trip to Ireland with the fabulous Alison Brown Quartet is planned for August.
Now buy both 'through the round window' and Russell's House cd 'Russell's House' on this site using 'PayPal'.
See pictures with Salsa Celtica at the Queen's Hall on Friday 7th March.
Check out the recent review of 'ttrw' in FRoots.
updated 26th february 2003
Over three weekends at Celtic Connections 2003 I played with the Alison Brown Quartet at the Fruitmarket, Salsa Celtica at the Barrowlands, and Eddi Reader (for 'Hummingbird' at both the Fruitmarket, along with ABQ, and at the Royal Glasgow Concert Hall, along with her big band and the RNSO). I also made late night appearences with Dervish, Danú and with Mike McGoldrick's big band on the closing night.
I have recently been working with Salsa Celtica on their new cd 'El Agua de la Vida' (see review). I have co-written a track on the cd with trumpet player Toby Shippey producing a type of Colombian dance/tune called a cumbia – with tenor banjo. We recorded this in early December.
I recently did an interview with Áine Hensey on Sunday 5th January on RTÉ Radio 1, Ireland, for the programme 'The Late Session'.
And also did 'Traveling Folk' with Archie Fisher on Thursday 9th January for BBC Radio Scotland; interview and music with the wonderful Kris Drever.
Both these shows are available on-line at the relevant sites (given above) for a limited period.